You have to expect the unexpected when it comes to fantasy football. Some people pop out of nowhere for superstardom, and other name players fade into obscurity. It is the same in the NFL, as upsets can happen at any time. They don't call it "Any Given Sunday" for no reason. Week 3 of the saw two huge upsets, as the Lions defeated the Patriots and the Bills blew out the Vikings. Many a survivor pool was lost that day. In fantasy, we saw Jimmy Garrapolo have a decent game and then tear his ACL. Fantasy owners must always have a backup plan and in most cases a backup to the backup plan. Let's take a look at some players that should be kept around for that plan, and others who no longer deserve to be rostered.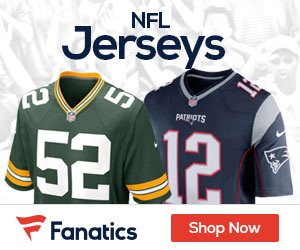 Fanatics Cut'em or Keep'em Week 4
Save 20% or more on select NFL T-shirts at Fanatics.com
Keep'em
Josh Allen, (Bills) 5% owned ESPN
Josh Allen burst onto the football scene in week 3, as he led what was probably the biggest upset in the NFL in the past 10 years. Allen was made the starting QB after Nathan Peterman predictably failed to generate much in the way of offense for Buffalo. Buffalo needed a spark and got one in their rookie QB. He threw for 15 of 22 passes for 196 yards and a touchdown as well as carrying the ball 10 times for 39 yards and two touchdowns in the 27-6 win. His rushing ability should help in posting solid fantasy numbers, and you should hold on to him to see if he continues to generate quality fantasy weeks.
Ryan Fitzpatrick, (Buccaneers) 87% owned ESPN
Everyone was waiting for the proverbial shoe to drop on "Fitzmagic", and through the second quarter of Tampa's week 3 game, it looked like they were getting their wish. Fitzpatrick had thrown 3 interceptions and looked like he had come down to earth. The second half would turn out to be a different story, and Fitz would finish with 411 yards, three touchdowns and three interceptions for the day. While some regression was expected after his blazing start, he still holds a stellar TD to INT ratio and Tampa doesn't look like its handing the job back to a returning Jameis Winston. HOld onto Fitz for now.
Tarik Cohen, (Bears) 64% owned ESPN
Cohen was supposed to be a key cog in the new look Bears offense in 2018. He was supposed to be the lightning to Jordan Howard's thunder. it seems like that has not been the case so far, as Howard has received the bulk of the work at RB. The Bears have talked about getting him more involved, so don't lose all hope yet. In week 3, Cohen rushed five times for 53 yards while catching three passes for an additional 15 yards, bringing his total yardage to 68, more than his first 2 games combined. Keep him on your roster in hopes that week 3 was the start of an uptick for Cohen, and that he will have a more involved role in the offense going forward.
Cut'em
 Dion Lewis, (Titans) 92% owned ESPN
Dion Lewis began his Titans career on fire, having an RB1 type week in week 1 of the 2018 season. He was the PPR back that everyone needed to own, and he was going to be a focal point in the new offense that was being brought in for Tennessee. That thinking quickly ran aground, along with the rest of the Titans offense, starting in week 2. QB Marcus Mariota got hurt, and the rest of the offense has since fizzled out. In addition, RB Derrick Henry seems to have a stranglehold on most of the groundwork at RB, leaving only receiving crumbs for Lewis. The state at QB seems to be dismal, and Lewis no longer presents good value. Drop for a higher upside back.
 Dante Pettis, (49ers) 5% owned ESPN
Some stats in this article are via StatRoute.com 
Use Promo Code GOINGFF to save 25%
Dante Pettis is in a similar situation to Dion Lewis. He was a high draft pick rookie who made a splash in week 1 due to an injury to a starter and was projected to build off that. It didn't happen that way of course, as he was barely targeted in week 2 and not at all last week. Pettis also had the misfortune of having his Franchise QB lost for the season due to a torn ACL. These factors combined together does not spell good news for his fantasy prospects, and you should be looking elsewhere for receiver help.
Duke Johnson Jr., (Browns) 63% owned ESPN
Duke was projected to have a significant role in the Browns offense after the departure of Isiah Crowell to the Jets. The Browns then signed Carlos Hyde and drafted Nick Chubb, making the Browns backfield a muddled mess. As the season progresses, it is clear that Hyde and Chubb will be taking a majority of the work, leaving little for Johnson. The young RB isn't even doing well in PPR format, something he has dominated in years past. Check and see if the offense changes with the inclusion of Baker Mayfield at QB, but otherwise look for better option elsewhere or try to trade Duke on name value.
Download the Free GoingFor2 App by Clicking Here...