Welcome back and to Week 3.  My Week 2 article had some good and some bad; the Bradford injury took me off of my favorite stack of the week (Roethlisberger, Bell, Bryant, and Thielen).  It's important to follow the news all the way up until Sunday and adjust your lineups accordingly.  I should have used the Brady-White-Hogan stack more, but like Bill Belichick would say, on to Week 3.
Disclaimer: the Top Stacks Report will be a weekly article highlighting my favorite correlated stacks of the week on both Draftkings and Fanduel.  I will be using Draftkings pricing in the headers.  Unless one site is specified, I like the stack for both.
Lets dive into Week 3…
Aaron Rodgers ($7,300), Ty Montgomery ($6,900), Davante Adams ($5,600), A.J. Green ($8,100), and Brandon LaFell ($3,700)
The Packers are dealing with a large amount of injuries through just 2 weeks.  Their offensive and defensive lines are banged up, as well as Jordy Nelson and Randall Cobb who both left the game against the Falcons early.  This is a situation to monitor Sunday morning, but I think if there's questions as to their health on Sunday, I'll be playing a lot of Davante Adams.  It is interesting to see the total in this game move up from 45.5 to 46.5 with the Packers injury issues, and the Bengals getting 2 points to move the line to +8.  This to me says there's sneaky shootout potential in this game, or at least that the Bengals will be able to keep up with the Packers a bit.  Jordy is too expensive for this week's slate if he plays, but I think Davante Adams has a high floor if either Cobb or Nelson miss.  He saw 7 targets in Week 1 and 10 in Week 2 with the injuries piling up in negative game script.  I think Ty Montgomery chalk week part 2 is going to happen, since he's still under-priced for the value he brings.  I believe TyMont should be $8,000, in line with Kareem Hunt, so I think he's a lock-and-load play until then.  After the Bengals fired their offensive coordinator, I think it's A.J. Green smash week.  If you know me, you know A.J. is one of my favorite NFL player, and it's been frustrating to see this offense hold him down through 2 weeks.  I don't think I've ever seen Green so animated and openly critical of the team to the media before, but rightfully so.  It sucks that Andy Dalton will remain their QB for the time being, but this offense needs to adjust to manufacture targets for Green.  If he wasn't the best play on the board before today, Tyler Eifert and John Ross both out for this week has  confirmed it.  Most will just take this news and play A.J. Green, which would be the correct move.  I think this opens up for Brandon LaFell to be involved a lot too.  LaFell (12 targets) and Green (18 targets) have combined for 45% of the team targets.  You can play LaFell as a pivot off some of the other cheap WRs this week at under 1% ownership….sign me up.
Kirk Cousins ($6,100), Terrelle Pryor ($5,900), Amari Cooper ($7,100), and Jared Cook ($3,100)
For the second straight week, we have the Sunday Night Football game with the highest total of the week.  Just like last week, I think you need a piece of this game on every lineup you make.  Kirk Cousins is right there with Matt Stafford as far as my favorite QBs this week, so I will be using a lot of him.  I do like Derek Carr's upside a bit more, but think Cousins is the better play especially on Draftkings with the tighter salary cap.  This connection is going to pay off sooner or later, so I'm going right back to the Cousins – Terrelle Pryor stack.  On Draftkings, Pryor is way too cheap at $5,900, priced as the WR24 in the highest total of the week as a home underdog.  Oh, and did I mention it's a #RevengeGame against his old team?  Yes, that's very important for DFS.  The Raiders have a bad pass defense, 25th in pass defense DVOA (Football Outsiders) in 2016, and have picked up where they left off last season (22nd in 2017).  For the Raiders, Crabtree vs Cooper has just gotten very interesting as Crabtree has passed him in Draftkings salary, $7,400 to $7,100.  I will forever be #TeamCrabtree, but if Cooper is going to be cheaper and lower owned, I'm forced to play him.  Josh Norman is not expected to shadow either receiver, so I'm going into this game thinking both guys will see Norman's coverage and I have no conviction as to who seems more of it.  Just give me the cheaper/lower owned one every week.  The Redskins are one of the best matchups for opposing tight ends in the league, so I think it's time for the Jared Cook truthers to come out in prime time.  Last year, the Redskins were 25th in DVOA covering tight ends, and with Zach Ertz's 8-93 in Week 1, it does not seem like they corrected this issue in the off-season.  Cook is a cheap way to close out an expensive Sunday Night hammer game stack.
Darren Sproles ($3,900), and Eagles Defense ($3,000)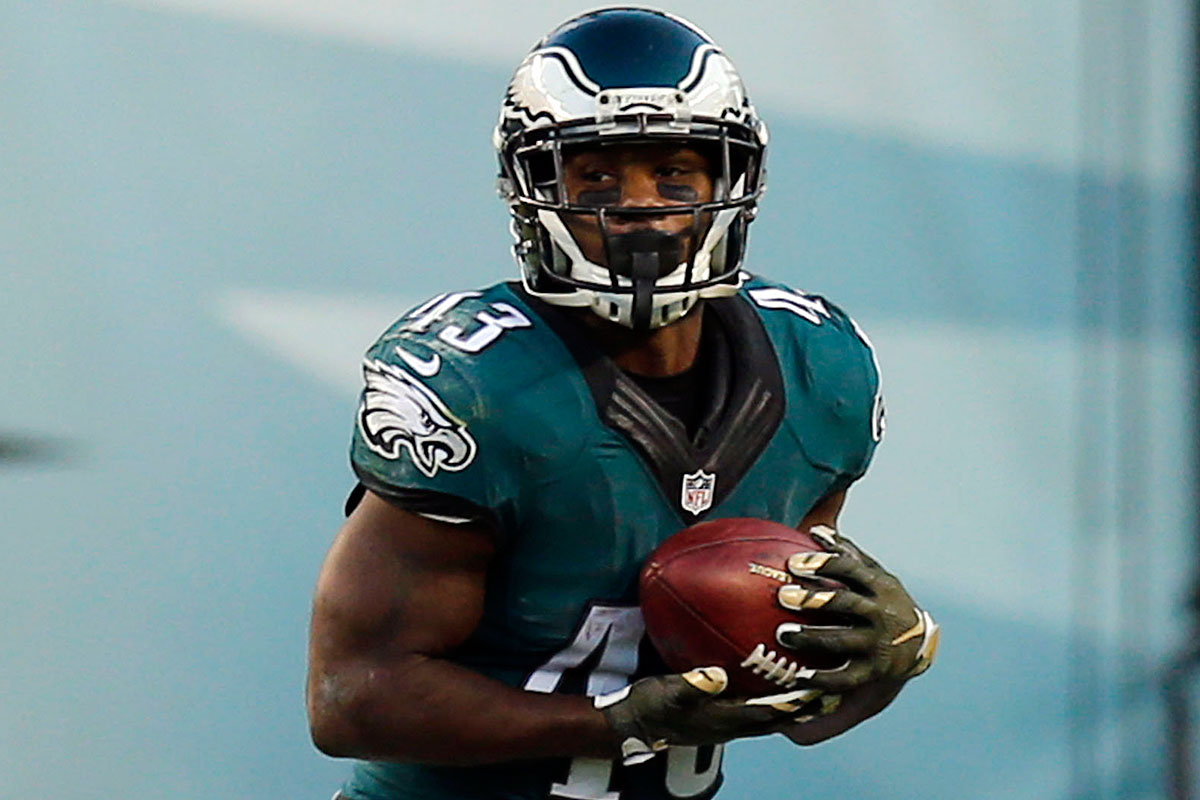 The Eagles can't run the football…it's going to be a problem for them moving forward this season.  The Giants were also #2 in rush defense DVOA last season, and look like an elite run defense again in 2017.  So why do I want to stack an Eagles RB with their defense?  Opportunity.  So far through 2 weeks, the Eagles rb snaps are as followed: Darren Sproles-83, LeGarrette Blount-29, Wendell Smallwood-29, and Corey Clement-1.  Blount didn't even receive a carry in Week 2.  I think the Eagles will attempt to establish the run early, but I don't think they'll be able to against this Giants front.  If Janoris Jenkins misses the game, the Eagles should be able to throw all over this secondary.  As 6 point favorites, game script might get away from this being a "Sproles game" but he can do damage in so many different ways.  He will be a factor in the return game as well, where the Giants allowed a punt return touchdown in Week 2 to the Lions.  The Sproles/Eagles Defense is the best of both worlds stack if Blount is not involved like Week 2.  He has the upside for double digit carries, 5+ targets, and return game work.
Russell Wilson ($6,300), Doug Baldwin ($6,400), and Eric Decker ($4,000)
Feel free to fade all of my Seahawks takes, but I am so invested in this offense that I'm not ready to give up on them.  The Titans were 10th in run defense DVOA last season, compared to 27th in pass defense DVOA.  Not that the Seahawks can run the ball on anyone, but we definitely should not expect them to in this matchup.  This would open up the pass game (I hope).  We have seen the upside of the Russell Wilson – Doug Baldwin stack, so I'll go there against this bad Titans secondary.  I believe the best way for the Seahawks to attack this matchup is quick passes to get the ball out of Wilson's hands in the 0.5 seconds he has to throw the ball every drop back.  Baldwin could have a monster ppr game against slot corner Logan Ryan this week.  As I have said every week, we want to attack the Seahawks defense in the slot.  With Corey Davis set to miss the game, it's finally Eric Decker week.  The Titans have shared the wealth so far this season with targets: Rishard Matthews-14, Corey Davis-13, Delanie Walker-13, and Eric Decker-13.  Davis' injury should benefit Decker the most as far as targets in the slot.  Since this is the best avenue of attack, the Titans should look to Decker early and often.
Honorable Mentions:
DeShone Kizer ($5,000), Rashard Higgins ($4,000), and Jack Doyle ($3,600)
Le'Veon Bell ($8,800), and Steelers Defense ($3,400)
Jonathan Stewart ($4,700), and Panthers Defense ($2,600)
Stack of The Week
Matthew Stafford ($6,200), Golden Tate ($6,900), Eric Ebron ($3,300), and Mohamed Sanu ($4,500)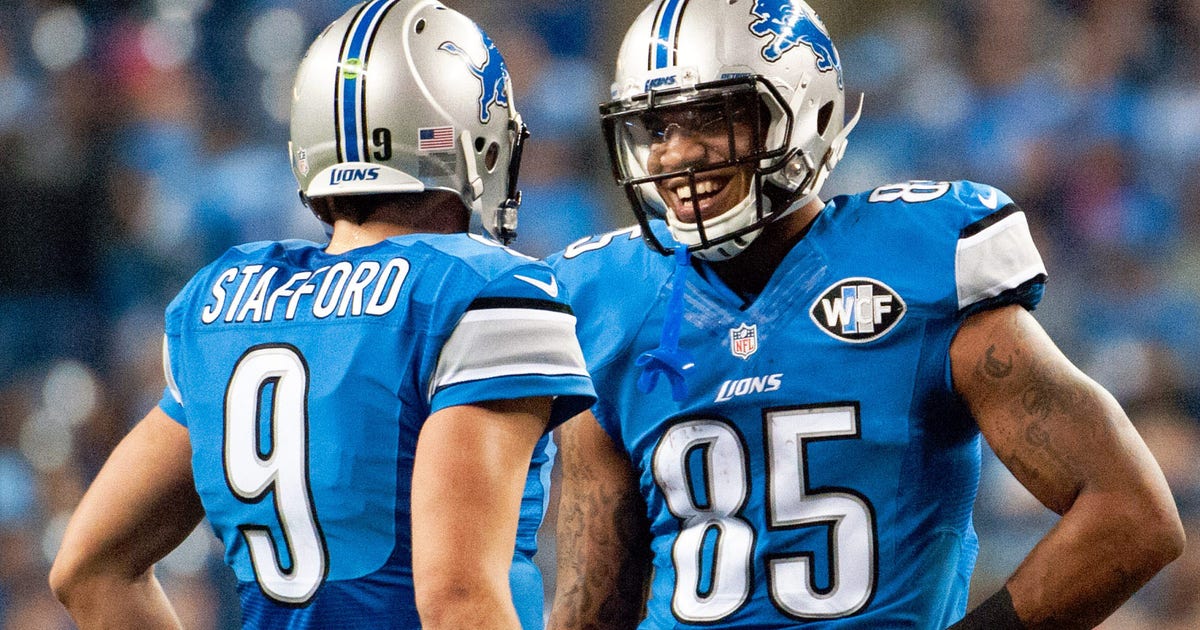 It's hard to believe, but the game that has moved from a total of 48.5 to 51 this week has not been talked about enough.  Matthew Stafford has been discussed as a cash game option at QB (which I agree with), but this game as a whole will be under-owned.  In order to get the high priced players in my lineups this week, A.J. Green and Le'Veon Bell, I think we can game stack without spending a significant portion of the salary cap.  The $900 and $600 discount on Draftkings and Fanduel, respectively, from Matt Ryan to Stafford is great for two players with similar ranges of outcomes.  There are 3 players I like paired with Stafford: Golden Tate, Eric Ebron, and Theo Riddick.  I will leave Riddick off this stack, because I don't think the Lions score enough for all 3 to hit the ceilings needed to win a DFS tournament.  Tate should see very minimal ownership after the "dud" against the Giants on Monday night.  He caught all 4 of his targets for 25 yards in a game where the Lions were leading the entire game and threw the ball 21 times (compared to 41 in Week 1).  Tate is still responsible for 26% of the Lions targets through 2 weeks (23% in 2016), so he will continue to see the most targets on a weekly basis.  It also helps that he plays out of the slot enough that he doesn't have to worry about shadow coverage from the opposing top cornerback.  Week 1 we saw Patrick Peterson on Marvin Jones, and we should expect the same situation with Desmond Trufant covering Jones this week.  Like I've said in my previous articles, I don't worry much about matchup for players like Tate or Doug Baldwin, because they're the #1 options of their teams that get moved around all over the field to scheme them the football.  Eric Ebron is just too cheap on both Draftkings and Fanduel.  The Lions have yet to be in negative game script in which they were forced to come back, so we have not seen as much Ebron as I'm expecting in Week 3.  Blocking tight end Darren Fells played 41 snaps to Ebron's 40 against the Giants drawing 1 target so far this season.  Ebron saw 5 targets on Stafford's 21 attempts in a great matchup for tight ends in Week 2.  I think the team wants to continue to get Ebron more involved in the offense, and especially the red zone since they can't run the football.  On the other side of the ball, obviously Julio Jones is in play…he always is.  I don't like him as much as A.J. Green or Antonio Brown this week, so a nice cheap pivot is the same receiver I wrote about last week: Mohamed Sanu.  At half the price of Julio, I like Sanu's upside.  Sanu has actually seen 1 more target than Julio through 2 weeks (15 to 14).  There are many cheap wide receiver options this week, like Rishard Higgins, Eric Decker, and Jermaine Kearse, so people will not be looking at Sanu.