Welcome to Week 5 of the Draftkings Pickem Plays article.  Once again, Draftkings has decided to shake things up with the Pickem games, so I don't want to waste time reviewing the previous week's results if they aren't applicable to the current week.  As you would have read in my Week 4 Pickem article, I faded Deshaun Watson and DeAndre Hopkins.  I did not make any money.  We move forward though, and this week the big change to the Pickem game is a change from 8 tiers of 8 to 6 tiers of 8 with 1 quarterback tier.  With only 6 players on your lineup now, you're going to need to be perfect in selecting the top player in each tier to win large field tournament.
Now let's dive into the tiers for Week 5…
Tier 1
Carson Wentz; Carson Palmer; Eli Manning; Cam Newton; Matthew Stafford; Ben Roethlisberger; Andy Dalton; Jacoby Brissett
READ TIER 1 LAST
OK, I trust that you followed my instructions and are reading this last.  With the pickem format the way it currently is, you should still be trying to stack your QBs with pass catchers to maximize upside.  If you went with Deshaun Watson and DeAndre Hopkins last week, you understand why and are most likely filthy rich right now.  Instead of discussing a few choice QBs, I'm just going to list which ones I'm interested and who I want to stack them with (which may include receivers on the other side of the game).
Carson Wentz – Zach Ertz, John Brown, Andre Ellington, J.J. Nelson (pending John Brown's status)
Carson Palmer – Zach Ertz, John Brown, Andre Ellington, J.J. Nelson (pending John Brown's status)
Eli Manning – Odell Beckham, Sterling Shepard, Evan Engram
Matthew Stafford – Golden Tate
Jacoby Brissett – T.Y. Hilton, Pierre Garcon
Tier 2
Antonio Brown; Le'Veon Bell; Leonard Fournette; A.J. Green; Odell Beckham; Keenan Allen; DeVante Parker; LeSean McCoy
If you're reading this article, I don't think you need me to say that Le'Veon Bell is the best play of the week, regardless of what game/format you're playing.  If you play double ups or head to heads for pickem, just play Bell.  The Steelers are at home against a defense that ranks 32nd in run defense DVOA (Football Outsiders) and 1st in pass defense DVOA.  Play. Le'Veon. Bell.  In tournaments, everyone else in this tier will be so low owned that there's game theory merit to playing them.  Now that there's only 6 tiers, we need to be perfect to win a tournament.  My favorite pivot off Bell is Odell Beckham.  Since he's been fully healthy the last two weeks, Beckham has 29% and 46% of the Giant's team targets and air yards, respectively.  Casey Hayward (unfortunately for me and whoever read my Week 4 Stacks Report) shadowed Alshon Jeffery last week, so we should at least go into this game knowing that could be a possibility for Beckham this week.  However, Beckham is seeing the volume to overcome a poor matchup.  I don't have much interest in any other Tier 2 players…I'm going to play all the Bell and not think too much about it.
Tier 3
Carlos Hyde; Larry Fitzgerald; Melvin Gordon; Jarvis Landry; T.Y. Hilton; Bilal Powell; Pierre Garcon; Jay Ajayi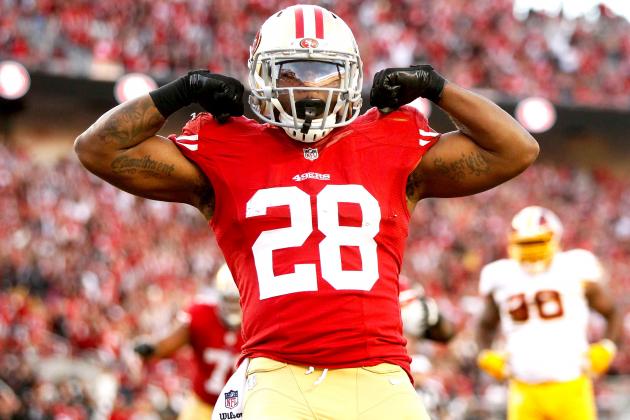 Melvin Gordon played through an injury to his surgically repaired knee, and flopped with 10 carries for 22 yards and 1 catch on 3 targets for 7 yards.  Rightfully, he was unowned in last week's matchup.  He's not being talked about at all going into a matchup with the Giants who rank 31st in run defense DVOA that allowed 5.2 YPC  (Yards Per Carry) to Jacquizz Rodgers in Week 4, and 4.6 YPC overall to opposing backs this season (25th in the NFL).  To put it simply, running backs against the Giants are good plays.  The 49ers were blown out in Weeks 1 and 2, but lost by 1 possession in Weeks 3 and 4.  Carlos Hyde saw 28 and 21 touches the last two week, which included 6 targets in each.  The Niners are 1.5 point road underdogs traveling to Indianapolis against the 23rd ranked run defense by Football Outsiders' DVOA.  The Colts are allowing an average of 26.1 fantasy points to opposing backfields, and Hyde is seeing 74% of team snaps and 69% of team carries…Oh, and did I mention that Hyde has the second most targets and receptions on the team behind Garcon? Well, he does.  People don't like playing road underdog running backs, especially on 0-4 football teams.  This is a great matchup for a high volume running back in a game that should stay competitive.  The total for the Niners/Colts game has risen 1.5 points from 43 to 44.5.  With that said, I also like both Pierre Garcon and T.Y. Hilton in a game that could turn into a profitable dfs spot like the Colts/Browns game did.  Hilton and Garcon both easily lead their teams in targets and air yards.  The last player I'm interested in for tier 3 is Jarvis Landry.  He's 3rd in the NFL with 31% of his team's targets (AirYards.com), and is facing a Titans team that is 29th in pass defense DVOA.  The Dolphins are coming off two egregious offensive performances against the Jets and Saints; if they can't get it done again this week against the Titans, they just simply can't get it done at all.
Tier 4
Zach Ertz; Golden Tate; Charles Clay; Christian McCaffrey; Tyrell Williams; Rishard Matthews; DeMarco Murray; Kelvin Benjamin
Tier 4 is (relatively) an easy one to break down: DeMarco Murray is in a split backfield facing a defense that ranks 2nd in run defense DVOA and 31st in pass defense, Charles Clay is a good salary format player but in no way has the upside to lead this tier in raw points (I know I'm going to regret saying that), Tyrell Williams should see enough Janoris Jenkins that I don't want to go there with the somewhat limited volume he's seeing and he's questionable, Rishard Matthews will most likely have Matt Cassell throwing him the football, and Kelvin Benjamin should get Darius Slay shadow coverage.  I'm winded just from writing that run-on sentence.  This leaves 3 guys I'm interested in: Golden Tate, Zach Ertz, and Christian McCaffrey.  Tate is easily my favorite play from this tier, where he gets the best of the matchups against a good Panthers defense in the slot with Captain Munnerlyn (still my favorite name in sports).  Tate has double-digit upside in this matchup, and is a great stacking partner with Stafford.  With Alshon Jeffery getting shadowed by Patrick Peterson, Ertz could see a few extra targets.  He hasn't seen fewer than 8 targets in a game thus far, so (just like Tate) we can project high volume for Ertz, but in a not-so-great matchup.  Game script did not go according to plan for McCaffrey last week, because the Panthers somehow beat the Patriots in New England.  It looks like we can't project more than 8 carries for McCaffrey, but his value is going to be derived almost entirely from the pass game.  Carolina is only a 2.5 point underdog in this matchup, so double-digit targets is probably out of reach.  With McCaffery, we are betting on the big play (which we're still waiting for).  He's the type of player you have exposure to in dfs every week.
Tier 5
Duke Johnson; Sterling Shepard; Alshon Jeffery; Devin Funchess; Delanie Walker; Martavis Bryant; Joe Mixon; John Brown
The Bengals are 3.5 point home favorites against a good defense in the Buffalo Bills.  The good news for Joe Mixon is that since the offensive coordinator change, he's seen 21 touches each of the past 2 weeks.  If playing head to heads and double ups, I think Mixon is the best play in this tier just from a volume perspective.  He hasn't produced thus far and he's facing the 9th ranked run defense by DVOA, but volume and opportunity are so important in dfs.  Duke Johnson is having a very strange season to analyze.  He played slot receiver in Week 1, then transitioned back to his role as the change of pace/pass catching back in Week 2.  Over the past 3 weeks, Duke leads the Browns in targets with 28, but has only seen 10 carries to 29 carries for Isaiah Crowell.  This seems pretty standard, until you look a little closer into the red zone work for these backs.  Crowell had 2 red zone carries in Week 1, and has had none since.  From Week 2 through 4, however, Duke has seen 4 red zone carries including a touchdown each of the past 2 weeks.  Even Matt Dayes (whoever that is) has a red zone carry over the last 3 weeks!  If Duke is going to see 10 target upside as well as red zone work moving forward, he's going to be in close matchups…like at home against the Jets.  The Giants have a 24 point team total and no running game, so I expect them to get their production from the passing game that has seemed to come alive a bit over the past two weeks.  I wouldn't play them all on the same lineup, but Shepard, Beckham, and Engram are in play as stacking options for Eli Manning.  The only other player I have serious interest in is John Brown depending on his injury status and if we can expect a full workload.  You beat the Eagles on the exterior and the deep ball, so John Brown could be in for a monster game if he gets his full workload.  Carson Palmer leads the league in pass attempts, and I don't expect that to slow down this week as 6.5 point road underdogs in Philadelphia.
Tier 6
Jermaine Kearse; J.J. Nelson; Ameer Abdullah; Allen Hurns; Evan Engram; Andre Ellington; Frank Gore; Wendell Smallwood
Per the above with John Brown, if he is for some reason out or limited for the matchup with the Eagles, I'll play J.J. Nelson for all the same reasons.  Andre Ellington is the most interesting player in this tier to me.  He has seen 22 targets the last 2 weeks, and that should continue against an Eagles defense that ranks 21st in DVOA covering running backs out of the backfield.  The Cardinals have been using Chris Johnson as their primary ball carrier, with Ellington seeing all the receiving work; the game script should favor Ellington as a road underdog.  I don't love the spot for Ameer Abdullah, but he's seeing volume and they're a home favorite.  I will have Stafford and Tate on most teams, so I'll make sure to have at least one lineup with Abdullah as a hedge off the passing game.  Game script should force the Jaguars and Blake Bortles into 40+ attempts against the Steelers.  Last week, Allen Hurns saw 10 targets (only 4 receptions because Bortles targets aren't like most), so the volume might be there for him.  I don't think efficiency will follow, but Hurns is in play especially if Marqise Lee is out.  The Chargers are 30th in pass defense DVOA against the tight end, so that takes us to Evan Engram.  The Giants pass game is very much in play, like I previously stated.  Engram saw 11 targets last week in a similar matchup.  I would use Eli and 1 or 2 of the 3 pass catchers on a lineup, but not all 3.  The last guy I have interest in is Frank Gore.  I NEVER play Frank Gore, because he has such a low ceiling but the floor is high.  If there are no big scores in this tier, Frank Gore's 12 points could be enough.
Good luck this week, and feel free to reach out with questions/feedback on twitter @EvanRosenberg0.  I would love to hear more thoughts on this new Pickem format.
Download the Free GoingFor2 App by Clicking Here...