Last season could not have gone worse for Washington. The Scot Mcloughen fiasco prior to the 2017's draft foreshadowed a season full of dysfunction, injuries, and disappointing performances in the clutch.
What started with season-ending injuries to key defensive playmakers in Jonathon Allen and Mason Foster culminated in 23 players being placed on the injured reserve. What began with Terrelle Pryor having a few drops in the preseason ended with his benching and eventual placement on the IR.
As we enter the offseason, several positions are unsettled on both sides of the football. While Washington's offensive tackles and outside linebackers are essentially set, there are question marks at almost every other position.
Wide Reciever
Though Washington has invested heavily in wideouts by spending a first-round pick in 2016 (Josh Doctson) and paying up for FA WR Terrelle Pryor in last years offseason, they will still be looking for an outside WR opposite Josh Doctson at the X position.
Right now, the Redskins have two locks at the position for the 2018 season on the roster in Doctson and Jamison Crowder.
Doctson, though inconsistent, showed flashes of his elite ability to pull down jump balls down the field. Additionally, he led the team with 6 receiving touchdowns. While he didn't come down with some catches, in reality, very few WRs in the NFL make those throws catchable in the first place. He showed a significant improvement in his route running this year, and Redskins fans should be excited about his potential as Washington's lead receiver going into next season.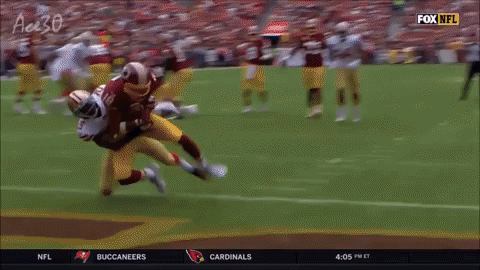 Crowder has been an underrated asset on the roster for three years. He is regarded as one of the NFL's biggest up and coming slot receivers. The Duke alum has an innate ability to make tacklers miss after the catch and is tough over the middle. Over the past two seasons, he has recorded over 1500 yards, 10 TDS, and 200 catches.
In 2017, Ryan Grant went from a player that was consistently on the roster bubble to one of the teams biggest priorities to resign in the offseason. Grant was regarded as a "coach's son" until this season where he had the highest catch percentage among qualifying receivers for Washington. He finally built upon his route running skills with strong hands.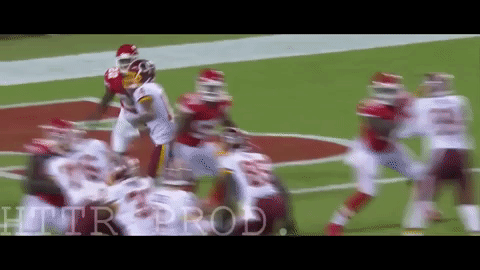 Aside from those three, everyone is extendable. The end of season depth chart had Maurice Harris, Brian Quick, and Robert Davis backing the others up, none of which have a roster spot guaranteed.
Jay Gruden only has two of three needed receivers that have starting-caliber talent and Washington lacked a clear playmaker on offense last year.
Offseason Targets: Allen Robinson, Paul Richardson, Calvin Ridley, Courtland Sutton
Running Back
Aside from 3rd-down back Chris Thompson, Washington's RB corps is in shambles. Going into the season, Rob Kelley and Samaje Perine were supposed to share the workload of the running game. Neither of the young backs averaged above 3.4 YPC or had PFF ratings of above 46.
Kelley ended the season on the IR after seven weeks and ran for over 35 yards just once. It would not surprise me if he was cut prior to next season.
Samaje Perine, on the other hand, did occasionally look like a good running back. Towards the beginning of the season, Perine struggled with patience and was constantly running into the backs of his offensive linemen. He turned the corner, sort of, after becoming the main starter in week 10, running for 100 yards in back to back games. Once he allowed an offensive line that was comprised of second and third string players to create holes, he was much more efficient. With that said, Perine lacked production over the final five weeks.
Chris Thompson was Jay Gruden's most electric playmaker last season. In 10 games, he had 804 yards from scrimmage. In the passing game, he had nine receptions of above 20 yards. In keeping with the theme of Redskins running backs, he spent the final six games on the IR.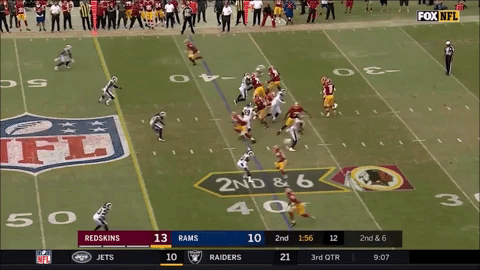 None of these players should be considered the bell cow back of the future, and adding a feature back is a must this offseason.
Offseason Targets: Darrius Guice, Nick Chubb, Keryonn Johnson, Carlos Hyde
Offensive Guard 
Somehow Shaun Lavaou has been protecting Kirk Cousins at the left guard position for the past three years. Lavaou, a 3rd round pick for the Browns in 2010, has been the weak link of the offensive line for far too long. While Trent Williams is considered elite, Brandon Scherff has been selected to back to back Pro Bowls, Morgan Moses signed a massive extension prior to the 2017 and rookie Chase Roullier has been praised by Jay Gruden, Lavaou has struggled significantly. He is a UDFA.
Spencer Long stepped in after Lavaou suffered a stinger which landed him on the injured reserve and was serviceable, but reports say that the Redskins desire to go in a different direction in 2018.
Offseason Targets: Andrew Norwell, Justin Pugh, Quenton Nelson
Download the Free GoingFor2 App by Clicking Here...