As we're stuck in the dead zone of the NFL I've been challenged to write about one player that I admire the most from every team in the NFL and why no matter how much I may dislike certain organizations. I'm a proud lifelong Eagles fan, therefore, there are a few teams where this may become a painstakingly over challenging quest. Let us begin this series with The NFC East:
1: The World Champion Philadelphia Eagles. Well, this one is easy: Quarterbacks Carson Wentz and Nick Foles, Running Back Corey Clement, Defensive End Chris Long, and Free Safety/Linebacker Malcolm Jenkins. Yes I know I added a few players from America's team rather than one. It's my article hence my rules. Carson Wentz: He's not only a great Quarterback but a very admirable teammate as well. After he was lost for the season during what would have been an MVP campaign as he broke The Eagles single-season touchdown record after throwing 33 of them he was nothing but supportive of his friend and teammate Nick Foles and helped in any way that he could from the sidelines. Nick Foles: Foles began his NFL career with The Philadelphia Eagles as a former third-round pick. Foles became The Eagles starting Quarterback in just his second season and had an amazing season in which he threw for 27 touchdown passes and just 2 interceptions on his way to leading his team into the postseason in 2013. He started half of the 2014 season for the birds before suffering a broken collarbone. Then the season after that he was rather heartlessly traded to the Rams who were a terrible team at the time. In fact, Jeff Fisher's Rams were so bad that Nick Foles nearly retired after only one season with the team. After a stint with The Chiefs as a backup, he came back to the team that drafted him to be the backup Quarterback for Philly and a mentor to Quarterback Carson Wentz. He proved to be far more than an insurance policy as he led The Philadelphia Eagles to a Super Bowl where they beat The New England Patriots 41 to 33. Philly Special anyone? He had an equally impressive game in last years NFC Championship Game as The Eagles crushed The Minnesota Vikings 38 to 7. Nick has earned the right to start again at some point in his career and at some point he certainly will most likely for another team. He will forever be an Eagles legend. Foles is also a great writer. If you have yet to read a copy of his New York Times bestselling book "Believe It" I highly recommend that you pick up a copy. It is a very compelling and eye-opening true story.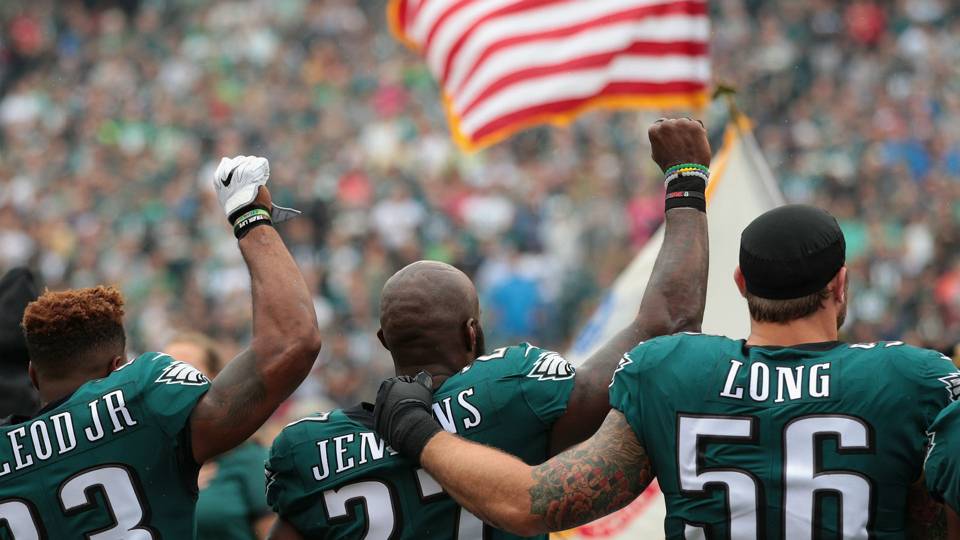 Chris Long and Malcolm Jenkins: While they are both great athletes who both had huge impact plays during The Philadelphia Eagles Super Bowl Victory this year it's their work off the field I most admire. They have worked together to fight against social injustice in their community as well as across the nation since an early preseason game where Jenkins raised a fist, not against the national anthem or the flag but the ugly head of racism and social injustice (A difference that President Trump still has yet to be able to decipher with his below average intelligence) Chris long put his right arm around his teammate to show support reminding many of the time that Pee Wee Reese did the same for Jackie Robinson way back when. The Two have worked together against social injustice ever since. Corey Clement: Clement entered camp last year with the Eagles as the teams 5th Running back with a very slim chance of making the 53 man roster. Through hard work and perseverance, he is now the teams 2nd back with star potential written all over him as evidence from his recent 5 touchdown season. Clement may the biggest diamond in the rough undrafted free agent pick up when all is said and done with his career with The Eagles.
The Washington Redskins: Quarterback Alex Smith. Smith has had a great career as one of the games most underrated players. He got off to a rough start early on in his career with The San Francisco 49ers but has shined every season he was a member of the Kansas City Chiefs. ( I still think they were foolish to trade him. ) Last year alone Smith threw for over 4,000 yards and was an MVP candidate. He certainly provides the Redskins with an upgrade at Quarterback as he is a great leader and is highly athletic. There is some bad news. The Redskins have a very average running game, offensive line and a lack of dynamic pass catchers outside of Jordan Reed (if healthy). Smith has less than half the toys to play with the Redskins as he had for many years with the Chiefs.
New York Giants: Slot Wide Receiver Sterling Shepard.  Shepard is the most athletic pass catcher The Giants have and he's just tapping the surface of his abilities. Over the past two seasons, he's caught 125 passes for 1.415 yards and 10 touchdowns while averaging over 11 yards per reception. Shepard accomplished this with very inconsistent and sometimes god-awful quarterback play from Eli Manning who is past his prime and Geno Smith who I thought had retired until Manning was benched in favor of Smith in one game last season. Another great thing about Shepard is his high road attitude and respectability which is often forgotten when the leagues most immature yet talented diva ( Next T.O.?) Wideout Odell Beckham Junior (who in fact did not invent one-handed catches as it would turn out) is on the same field. One has to wonder…If Shepard has another great year and Beckham proves to be a drama diva distraction for The Giants yet again this upcoming season…Could Shepard's play spell the end for Beckham's time in New York? Even more than a few Giants fans want Beckham gone. Sterling Shepard could make that happen.
The Dallas Cowboys: Linebacker Sean Lee. While I hate The Cowboys aka the bad guys of the division aka the Red Skull that my Eagles (Captain America) beat up on in Dallas 37 to 9 last year more than any other team in the NFL…this isn't fun…I could just end the article here……Well, he went to Penn State……ok…I do admire Sean Lee for three very simple reasons. 1: When he's on the field The Dallas defense is pretty good. When he's off the field (which is often) Their defense is just garbage plain and simple. 2: He played his college ball at Penn State. 3: He is a great linebacker that keeps his mouth shut about it unlike his fairly talented teammate/diva and current camp holdout Defensive End Demarcus Lawrence.
Predicting The 2018 NFC East Champions: The Philadelphia Eagles. The only team in the division that could make the playoffs outside of Philly as perhaps a wildcard team is Washington and in order for that to actually happen, they need to add a couple of skill player before the season starts or be lucky enough to have a few undrafted free agent rookies have great preseasons. Washington fans there is a slim chance… but a chance. I'm picking Dallas to finish last. Yes, Elliots back but with Dak at Quarterback and nobody to throw to defenses will shut Elliot down and force Dak to beat them…and he won't the vast majority of the time. The Giants look like .500 ball club to me…unless one of their non-Geno Smith backup Quarterbacks beats out Manning. This division still belongs to The World Champion Philadelphia Eagles and should for a while. There is a huge gap between The Eagles and the rest of their division and I'm not just saying that because The Eagles are my team. The only hole on their roster is backup Safety. The holes on The Redskins, Giants, and The Cowboys rosters are at nearly every position. Let's go Eagles!!
Download the Free GoingFor2 App by Clicking Here...